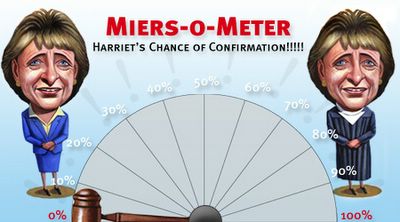 And she is down...
Actually I feel bad for Harriet Miers. It reminded me of the time
Babe Laufenberg
, backup quarterback, became the Cowboys starter (nice guy, smart, good college QB- But, Soooo in over his head).
How can one president show such moxie in a brilliant decision like Roberts and remind us how close to incompetence he truly teeters. If he made this decision because Karl Rove is not around as much, I think I want Bush's Brain back in office.
_______________________
On a much more serious note regarding the Religious Right and Republican Party and their incredible hypocrisy , see my friend Will Samson's post
Sex, Power and the Gospel
. Although I have written ad nauseam on this same subject, Will's freshness is due to his former position deep within Republican Party and RR politics. The Clinton thing actually started his journey out of the depths of the RR.
Very few right-wingers have a good response to Will's (and my, along with Jim Wallis') indictment of their hypocrisy. Usually the only weak, knee jerk response we get is to attack Clinton, Pelousi and the Democrats. And, ouch that really hurts me and Will, seeing that we have no loyalty or history with the Democrats or Clinton. I hope some of the loyaltists (who always say they are not- but still quack like a duck) will respond to Will's insight.